Hey, bookworms! Biannual Bibliothon starts in less than a week! And this round, I'm a blogger host so yay! But for today, I'm giving you my TBR and the challenges they go with.
1. Read the group book: Otherworld by Jason Segel and Kirsten Miller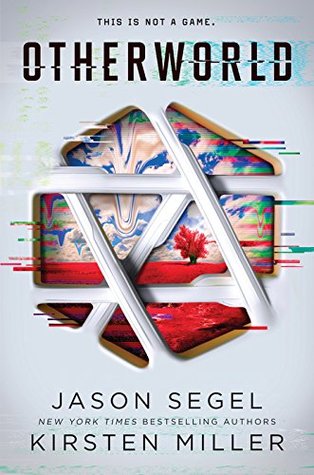 Goodreads Synopsis:
The company says Otherworld is amazing—like nothing you've ever seen before. They say it's addictive—that you'll want to stay forever. They promise Otherworld will make all your dreams come true.
Simon thought Otherworld was a game. Turns out he knew nothing. Otherworld is the next phase of reality. It's everything you've ever wanted.
And it's about to change humanity forever.
Welcome to the Otherworld. No one could have seen it coming.
I am so excited for this book. I'm getting VR vibes from it and I'm a sucker for books about video games (*coughs*Ready Player One *coughs* Warcross *coughs).
2. Read a sequel
Goodreads Synopsis:
The highly anticipated sequel to the instant #1 New York Times bestseller Children of Eden.
          Two girls, one destiny.
Yarrow is an elite: rich, regal, destined for greatness. She's the daughter of one of the most powerful women in Eden. At the exclusive Oaks boarding school, she makes life miserable for anyone foolish enough to cross her. Her life is one wild party after another…until she meets a fascinating, lilac-haired girl named Lark.
Meanwhile, there is Rowan, who has been either hiding or running all her life. As an illegal second child in a strictly regulated world, her very existence is a threat to society, punishable by death…or worse. After her father betrayed his family, and after her mother was killed by the government, Rowan discovered a whole city of people like herself. Safe in an underground sanctuary that also protected the last living tree on Earth, Rowan found friendship, and maybe more, in a fearless hero named Lachlan. But when she was captured by the government, her fate was uncertain.
When these two girls discover the thread that binds them together, the collision of memories means that their lives may change drastically—and that Eden may never be the same.
I have been putting this off for a while but I'm finally gonna read it!
3. Read a book you've never heard of before
Goodreads Synopsis:
          The rock in the water does not know the pain of the rock in the sun.
On the corner of American Street and Joy Road, Fabiola Toussaint thought she would finally find une belle vie—a good life.
But after they leave Port-au-Prince, Haiti, Fabiola's mother is detained by U.S. immigration, leaving Fabiola to navigate her loud American cousins, Chantal, Donna, and Princess; the grittiness of Detroit's west side; a new school; and a surprising romance, all on her own.
Just as she finds her footing in this strange new world, a dangerous proposition presents itself, and Fabiola soon realizes that freedom comes at a cost. Trapped at the crossroads of an impossible choice, will she pay the price for the American dream?
This book sounds so awesome! I have a feeling it's going to be one of my favorite reads of the year.
4. Read a book about mental illness and
7. Read a backlist title (book published before 2017)
Goodreads Synopsis:
The critically acclaimed debut novel from Stephen Chbosky, Perks follows observant "wallflower" Charlie as he charts a course through the strange world between adolescence and adulthood. First dates, family drama, and new friends. Sex, drugs, and The Rocky Horror Picture Show. Devastating loss, young love, and life on the fringes. Caught between trying to live his life and trying to run from it, Charlie must learn to navigate those wild and poignant roller-coaster days known as growing up.
If you've been here for long, you'll know what I think of this but for those of you who don't, THIS IS MY MOST FAVORITE BOOK EEEEVVVVEEEERRRRR!!!!
5. Read a book that was mentioned in another book/movie/show/etc.
The reason there are two  here is that I don't know if The Halfblood Prince will be in my library by the time Biannual Bibliothon starts.
Goodreads Synopses:
Pride and Prejudice
"It is a truth universally acknowledged, that a single man in possession of a good fortune must be in want of a wife." So begins Pride and Prejudice, Jane Austen's witty comedy of manners—one of the most popular novels of all time—that features splendidly civilized sparring between the proud Mr. Darcy and the prejudiced Elizabeth Bennet as they play out their spirited courtship in a series of eighteenth-century drawing-room intrigues. Renowned literary critic and historian George Saintsbury in 1894 declared it the "most perfect, the most characteristic, the most eminently quintessential of its author's works," and Eudora Welty in the twentieth century described it as "irresistible and as nearly flawless as any fiction could be."
The Half-blood Prince
The war against Voldemort is not going well: even Muggle governments are noticing. Ron scans the obituary pages of The Daily Prophet looking for familiar names. Dumbledore is absent from Hogwarts for long stretches of time, and the Order of the Phoenix has already suffered losses. And yet… As in all wars, life goes on. Sixth-year students learn to Apparate, and lose a few eyebrows in the process. The Weasley twins expand their business. Teenagers flirt and fight and fall in love. Classes are never straightforward, though Harry receives some extraordinary help from the mysterious Half-Blood Prince. So it's the home front that takes center stage in the multilayered sixth installment of the story of Harry Potter. Harry struggles to uncover the identity of the Half-Blood Prince, the past owner of a potions textbook he now possesses that is filled with ingenious, potentially deadly, spells. But Harry's life is suddenly changed forever when someone close to him is heinously murdered right before his eyes. With Dumbledore's guidance, he seeks out the full, complex story of the boy who became Lord Voldemort and thereby attempts to find what may be his only vulnerability.
6. Read a book under 200 pages
Eighth Grade Bites by Heather Brewer
Goodreads Synopsis:
Vlad has to keep his vampire urges under control while dealing with the pressures of middle school. Thirteen-year-old Vladimir Tod really hates junior high. Bullies harass him, the principal is dogging him, and the girl he likes prefers his best friend. Oh, and Vlad has a secret: His mother was human, but his father was a vampire. With no idea of the extent of his powers, Vlad struggles daily with his blood cravings and his enlarged fangs. When a substitute teacher begins to question him a little too closely, Vlad worries that his cover is about to be blown. But then he faces a much bigger problem: He's being hunted by a vampire killer.
This a book I read when I was younger and I haven't read it in years so I'm excited about it!
Are you participating in Biannual Bibliothon this round? If you are, what are reading for it? Let me know in the comments below. 
#QOTD: What are you currently reading?
Thanks for joining me today! If you want up to date notifications when I post, click the follow button to become part of the Bookworm Army! For more bookish stuff, check out some of my other blogs or my social media linked in the Hit Me Up page linked below! Happy reading!
This Mortal Coil by Emily Suvada – Bookworm's Book Nook s2e1
My Top 18 Most Anticipated Reads of 2018